WallStreet Recovery PRO Live Performance
WallStreet ASIA Live Performance
Get THE BEST Three FOREX ROBOTS On The Market For The Price of ONE!
WallStreet Forex Robot is the Exact Tool You Need
To Multiply Your Trading Profits.
Why Our Customers Love WallStreet Robot
The WallStreet Forex Robot has scored GAINS of over +600%
in the last 5 YEARS of LIVE Trading.

Extraordinary performance considering the world economy has been struggling and most investors are having a tough time profiting in the currency markets.

These pip paydays were deposited into our trading accounts like clockwork…
These gains weren't a fluke or a lucky quarter – this stellar performance goes back five years!
Yet…
WallStreet Forex Robot was able to find consistently profitable trends and spreads that showed only the slightest movement each trading session.
One more point – before we show you what's under the hood of the WallStreet Forex Robot – Every single trade was executed on a live account.
That's proof you can rely on. We have a file cabinet full of thrilled customers that are using WallStreet Forex Robot to take back their financial freedom and replenish their retirement funds….
You would think that we would be happy with WallStreet Forex Robot.
Nope.
We are continuing to update the software with cutting-edge algorithms that will push its performance to an entirely new level…

If you are fed-up with robots which
scalp through the Asian session
when spreads are at their highest and profits are almost impossible,
WallStreet Forex Robot is exactly what you need!

WallStreet Forex Robot opens positions 24/5 with no time limits.

WallStreet Forex Robot analyses market dynamics without having to take account of the time of day.

90% of WallStreet Forex Robot positions opening during periods with the lowest spreads and highest market liquidity.

WallStreet Forex Robot is a profitable and entirely automatic forex system developed by a team of professional traders especially for ordinary forex traders.
Spare us a few minutes and we shall tell you why
WALLSTREET FOREX ROBOT
is NOT just another forex SCAM product, BUT IS RATHER
a VERY PROFITABLE and most importantly a LOW-RISK
forex trading system that can help you become
one of the few forex market dealers to make money
Forex market is the most lucrative market in the world, offering you never ending opportunities. However as you probably know, over 95% of forex market participants lose money.
This is due to several basic reasons:

Insufficient experience.

No clear trading tactics proven to lead to success.

Poor trading discipline.

Poor risk management.

Intuitive trading.

Trading using forex robots developed by people with insufficient experience and professionalism.

Tendentiously trading against the trend.

Failure to use defensive stops.

Stacking further losses to losing positions.
| | |
| --- | --- |
| | Insufficient experience. |
| | No clear trading tactics proven to lead to success. |
| | Poor trading discipline. |
| | Poor risk management. |
| | Intuitive trading. |
| | Trading using forex robots developed by people with insufficient experience and professionalism. |
| | Voluntaristic trading against the trend. |
| | Failure to use defensive stops. |
| | Stacking further losses to losing positions. |
In WallStreet Forex Robot, we have eliminated all the above reasons which account for over 95% of the losses incurred by forex traders worldwide.


WallStreet Forex Robot was developed by a team of professional traders and software developers with over 30 years' cumulative experience in forex trading and developing automated trading systems.

WallStreet Forex Robot is based on the probably best time-proven trading method: low-risk scalping following short and medium-term trends. This method has proven it worths ever since forex has been traded online. It generates millions of dollars of profit for the professional forex traders that use it.
By using this uniquely stable trading principle which has proven its profitability over the years, we offer you a powerful weapon which allows you to generate profits at low risk and enables you to become one of the few to boast forex trading success.

Since WallStreet Forex Robot is a software product, it acts in a manner that is 100% unbiased at all times. WallStreet Forex Robot is not swayed by emotions, transient indispositions or other negative factors and circumstances, assessing and performing each potentially profitable market situation entered in its program logic with 100 % correctness and discipline.

WallStreet Forex Robot has an in-built automatic risk-calculating algorithm that automatically determines trading volumes on the basis of account risk percentage per individual deal. Moreover, there is an option to activate a unique algorithm to effectively compensate any current drawdown.

WallStreet Forex Robot identifies and closes any deal in a 100% unbiased manner, never departing from its programmed trading logic: something of which even the most disciplined trader is incapable. 

WallStreet Forex Robot was developed by a team of professional traders and software developers, each of whom has given the best of their knowledge, skill, and experience in designing this unique product.

WallStreet Forex Robot opens positions against daily movements only where such moves have a high probability of success and by keeping to a trading method which has proven itself over the years through use by many professional traders.

As any professional trading system, WallStreet Forex Robot protects each position through defensive Stop Loss orders, making it impossible to lose an account in an individual transaction, as happens to all too many traders who fail to set defensive stops.

Probably the biggest mistake many traders make is to pile more and more on to losing positions in the hope that the market will turn. This, the major reason for account losses is one that we as WallStreet Forex Robot developers know all too well; we would never put you in this situation.

Of course, nothing speaks louder than historical results, and the results
WallStreet Forex Robot gives are – as you can see for yourselves – astounding:








We all know how difficult it is to turn a strategy that works well in tests into a strategy that should bring profit in real life. It is not enough for an expert advisor to do well in back tests for one to be certain of success. An expert advisor is only good when it makes profit and earns real money.
WallStreet Forex Robot is an expert advisor that was tested on live real money accounts BEFORE release. Ever since the first time it was attached to a real money chart, it has had the benefit of multiple improvements and modifications that make it one of the best robots on the forex market today.

As we mentioned, the basic principles include the low-risk accumulation of minor, yet highly probable, profits while following short and medium-term trends.
This does not mean that WallStreet Forex Robot is a mere scalper hoping to win a pip or two per transaction and whom every broker would ignore.
The average amount of winning WallStreet Forex Robot transactions is in the order of 10 to 15 pips: something no broker would qualify as aggressive scalping.
This means that another great benefit of WallStreet Forex Robot is that you can use it successfully with any MetaTrader4-based broker without worrying that spread widening would erode your profit, or that the broker would blacklist you as a damaging scalper.
WallStreet Forex Robot is an absolutely legal product which does not harm brokers in any way, rather: any broker would be happy to see you trading large volumes with him using WallStreet Forex Robot.
Another great benefit of WallStreet Forex Robot is that it was designed especially for the most liquid, narrowest spread currency pairs: EURUSD, GBPUSD, USDJPY, USDCHF, USDCAD, NZDUSD and AUDUSD.
The spreads of these currency pairs are most steady, even with floating-spread brokers, which means that you can profit consistently without worrying that the best and potentially most profitable signals might fail to be followed-through through the broker deciding just then to widen your spread.
Despite the spreads in these three leading currency pairs are usually in the 1 to 3 pips range, WallStreet Forex Robot has an in-built HIGH SPREAD PROTECTION SYSTEM, which protects you from surprising losses at moments of very high market volatility.
Another unique feature about WallStreet Forex Robot is the built in BROKER PROTECTION SYSTEM. It is common knowledge that many Metatrader brokers trade against their clients and together with things like high spreads, offquote errors and slippage it has become very difficult for a trading robot to consistently make a profit. WallStreet Forex Robot has one of the best released broker protection systems.

WallStreet Forex Robot
Top Features
Can be used on 1 REAL LIVE account
Comes with MetaTrader5 (MQL5) version
Comes with lifetime support and free upgrades
Trades all accounts - Trades MICRO, mini, and standard accounts
Operates with 4 and 5 digits after the decimal point
Operates with any MT4/MT5 broker, ECN included
Operates with any NFA regulated broker
Comes with an advanced Money Management system
Comes with 5 intelligent built-in protection system
Is Very Stable and Secure




It is disappointing to have to close a position which has made good profits in the past at a loss, or worse — when it hits a stop. We know just how disappointing this is. This is why we protect each WallStreet Forex Robot position with a near-stop level that guarantees minimum profit immediately it becomes possible. Alongside this, a special algorithm monitors optimum closure of each position turning a profit.



This built-in system conceals your stop levels from unfair brokers who trade against their clients. If you choose to use this option, stop levels are executed within the WallStreet Forex Robot program logic and remain invisible to brokers. This means that you have double protection: against unforeseen loss, and against unfair brokers.
WallStreet Forex Robot employs a Stealth Mode to protect against broker stop hunting. In Stealth Mode, stop loss and take profit levels are not displayed to the broker. An emergency stop loss is placed with the broker to protect the trade against disconnection, but the Stealth Mode stop loss will be reached before the emergency stop loss.



This protection guards you against transactions at times when your broker has broadened the spread above levels acceptable to you. This is most important, for high pay spreads are among the basic reasons why your trade can turn-in a loss.



This protection defends you from entering positions at prices which are too unfavorable for you in times of high market volatility, or when your broker may attempt to steal additional pips from you.



Alongside standard options allowing you to use fixed volumes chosen by you in each deal and standard risk management with proportional lot growth, WallStreet Forex Robot has a unique built-in algorithm which allows you to activate effective current drawdown compensation.

We understand that many of you want a system that genuinely works long-term. This is why professionals developed WallStreet Forex Robot to use the two most reliable and profitable trading techniques in existence: techniques which are bringing millions of dollars of profits to traders aware of them, ever since the forex market has existed.
DO NOT FORGET that we offer you 60 DAYS to test our product .
If you do not profit from it, WE WILL GIVE YOUR MONEY BACK.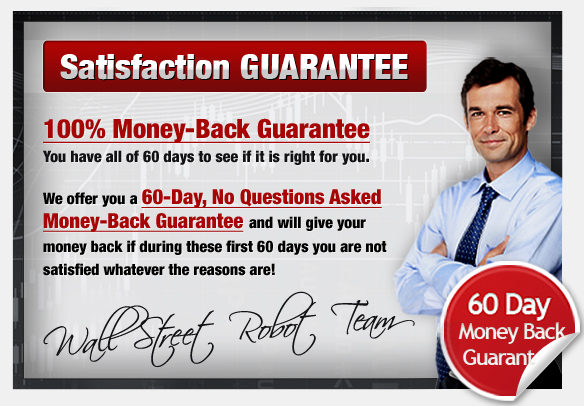 You have all of 60 days (enough to see how profitable this automated forex software is) to see if it is right for you.
We will give you your money back without any questions if during these first 60 days you are not satisfied whatever the reasons are!
Please contact us if you have any problems with our product as we are always ready to help.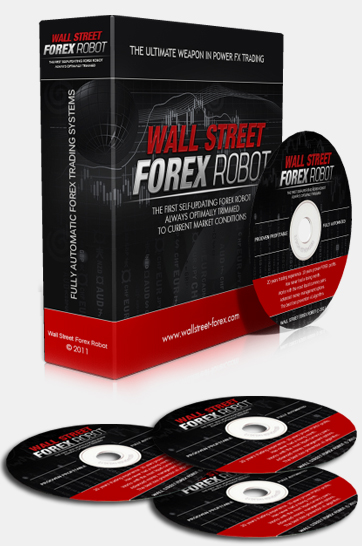 WallStreet Forex Robot for Metatrader4 - The robot comes with 1 real money account + unlimited demo accounts. You can buy unlimited additional licenses at low price.
EXCLUSIVE BONUS: You get WallStreet Forex Robot for Metatrader5 totally FREE of charge.
Detailed User Guide explains how to install and set up WallStreet Forex Robot with fulll instructions for downloading, installing, and running the system plus tips on how to use, optimize and configure it.
Lifetime membership.
Lifetime upgrades Our development team will not stop improving of the WallStreet Forex Robot and keep it competitive on the market under actual market conditions. All WallStreet Forex Robot buyers will receive free updates as soon as new versions are released.
Lifetime support We are available to you 24 hours a day, five days a week. You can contact us whenever you want, regardless of the type of question or problem you wish to rise.
100% Money Back Guarantee. You have 60 days to try our system. Go for it! If it does not make profit for you, we will return your money.
Get these 3 Amazing Forex robots for the price of ONE
SPECIAL SUMMER OFFERS
WallStreet Forex Robot + Volatility Factor EA
WallStreet Forex Robot + Forex Diamond EA
WallStreet Forex Robot + Forex Trend Detector
You have
THE GUARANTEE
of
Accurate Operation
, the benefit of complete service and lifetime future updates only by buying the ORIGINAL PRODUCT!
After purchase, once your payment is confirmed, you will receive an e-mail message containing your username and member access password. Then you can access the member area and download the expert advisor and all the files from the downloads area.
Copyright © 2011 - 2016 | www.wallstreet-forex.com | All rights reserved.
Disclaimer U.S. Government Required Disclaimer – Trading foreign exchange on margin carries a high level of risk, and may not be suitable for all investors. The high degree of leverage can work against you as well as for you. Before deciding to invest in foreign exchange you should carefully consider your investment objectives, level of experience, and risk appetite. The possibility exists that you could sustain a loss of some or all of your initial investment and therefore you should not invest money that you cannot afford to lose. You should be aware of all the risks associated with foreign exchange trading, and seek advice from an independent financial advisor if you have any doubts. Clearly understand this: Information contained within this course is not an invitation to trade any specific investments. Trading requires risking money in pursuit of future gain. That is your decision. Do not risk any money you cannot afford to lose. This document does not take into account your own individual financial and personal circumstances. It is intended for educational purposes only and NOT as individual investment advice. Do not act on this without advice from your investment professional, who will verify what is suitable for your particular needs & circumstances. Failure to seek detailed professional personally tailored advice prior to acting could lead to you acting contrary to your own best interests & could lead to losses of capital.
*CFTC RULE 4.41 – HYPOTHETICAL OR SIMULATED PERFORMANCE RESULTS HAVE CERTAIN LIMITATIONS. UNLIKE AN ACTUAL PERFORMANCE RECORD, SIMULATED RESULTS DO NOT REPRESENT ACTUAL TRADING. ALSO, SINCE THE TRADES HAVE NOT BEEN EXECUTED, THE RESULTS MAY HAVE UNDER-OR-OVER COMPENSATED FOR THE IMPACT, IF ANY, OF CERTAIN MARKET FACTORS, SUCH AS LACK OF LIQUIDITY. SIMULATED TRADING PROGRAMS IN GENERAL ARE ALSO SUBJECT TO THE FACT THAT THEY ARE DESIGNED WITH THE BENEFIT OF HINDSIGHT. NO REPRESENTATION IS BEING MADE THAT ANY ACCOUNT WILL OR IS LIKELY TO ACHIEVE PROFIT OR LOSSES SIMILAR TO THOSE SHOWN.
By using WallStreet Forex Robot, you acknowledge that you are familiar with these risks and that you are solely responsible for the outcomes of your decisions. We accept no liability whatsoever for any direct or consequential loss arising from the use of this product. It's to be noted carefully in this respect, that past results are not necessarily indicative of future performance.

Protection: All original content on www.wallstreet-forex.com is created by the website owner, including but not limited to text, design, code, images, photographs and videos are considered to be the Intellectual Property of the website owner, whether copyrighted or not, and are protected by DMCA Protection Services using the Digital Millennium Copyright Act Title 17 Chapter 512 (c)(3). Reproduction or re-publication of this content is prohibited without permission.